The greatest part about taking a road trip, aside from getting a deeper understanding and feel for the diversity of the U.S., both in culture and landscape, are the unique attractions you can visit during your drive. But sometimes those attractions are a little…out there. These are some of our favorite strange roadside attractions that are totally worth stopping by for a looksee.
Leaning Tower of Niles, IL
Get a taste of Italy without the expense of flying overseas. Built in 1934, the tower is an exact replica of the infamous Leaning Tower of Pisa, but scaled down by half. Nowadays, it serves as a gathering point for locals and tourists as the site of concerts, as well as a growing water park.
Prada Marfa Store, Valentine, TX
Don't be fooled. It's not actually a store, so don't expect to get some high-end shopping done. The permanently locked-up structure is actually a sculpture designed and constructed by artists Elmgreen and Dragset in 2005. On display are 20 left foot shoes and six purses, all of which were picked out by Miuccia Prada herself.
World's Largest Pistachio Nut, Alamogordo, NM
If you love pistachios, stopping here is a no-brainer. The 35-foot-tall nut isn't just a random sculpture; it was constructed to draw guests in to Tom McGinn's shop, McGinn's Pistachio Tree Ranch, where you can buy anything from Atomic Hot Chili Pistachio Brittle to Vanilla Peppermint Pistachio Bark.
Foamhenge, Natural Bridge, VA
Any lover of classic travel has a visit to England's Stonehenge on their list of places to visit. But it's not exactly an affordable excursion. Enter: Foamhenge. Sculpted by artist Mark Cline, these giant foam pieces were carved and painted to be an exact replica of the ancient site.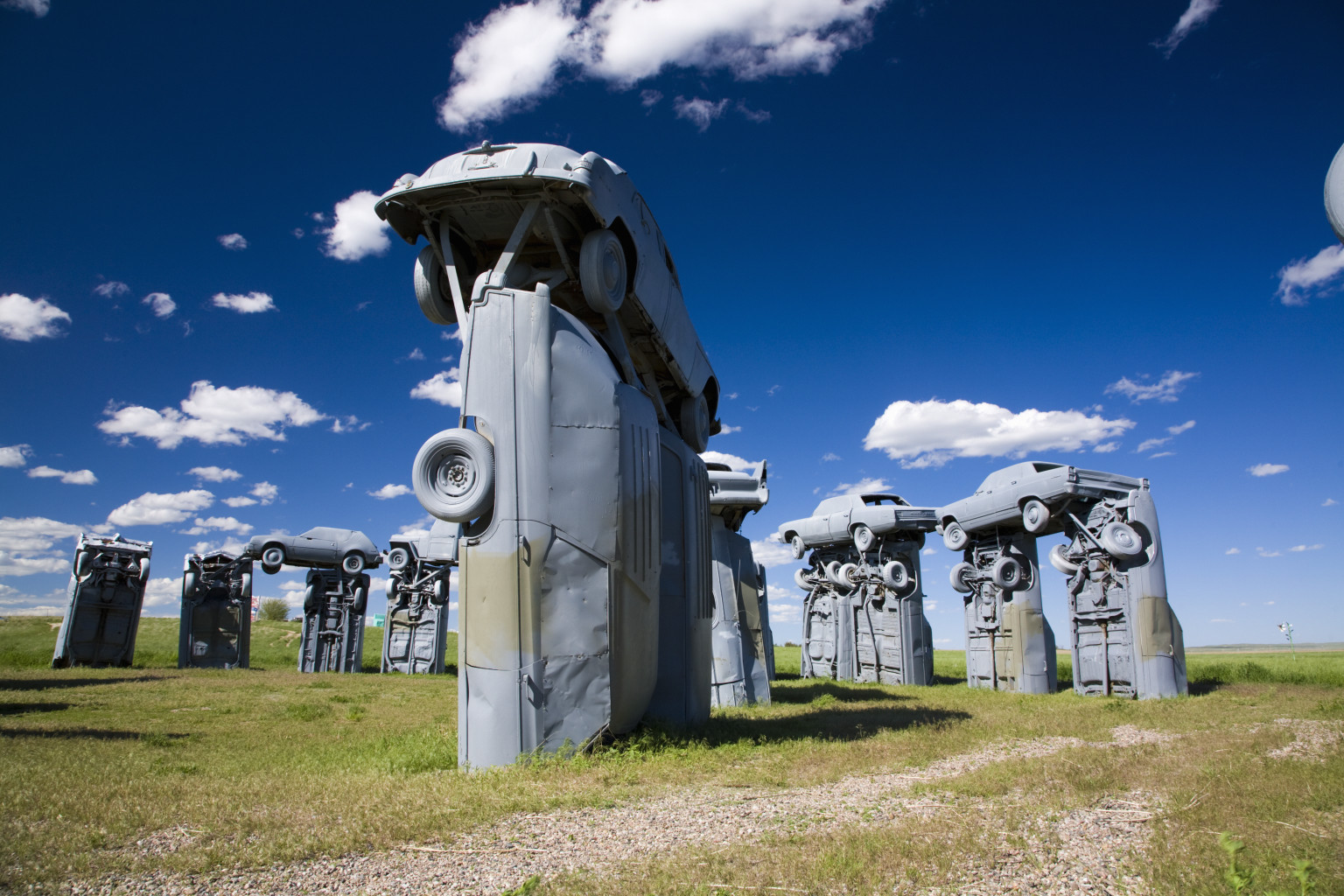 Carhenge, Alliance, NE
We're sensing a bit of a theme here. Another homage to England's Stonehenge, Carhenge was designed and built by local farmer Jim Reinders in 1987. Using 38 old cars he painted gray, the junkyard replica was an unwelcome eyesore at first. But as the years passed, locals began to love it.
Lenny, the Giant Chocolate Moose, Scarborough, ME
Len Libby, one of the most popular candy and ice cream shops in Maine, is home to this life-size chocolate moose. It was carved in a period of four weeks and is made up of 1,700 pounds of cocoa goodness. (Even the pond it sits on is made from white chocolate dyed with food coloring.)
Fremont Troll, Seattle
Built in 1990, the crude sculpture was designed by four Seattle-based artists—Steve Badanes, Will Martin, Donna Walter, and Ross Whitehead—as part of a contest. While the judges initially paid little attention to the ogre clutching a Volkswagen Beatle in its giant hand, the locals loved it, so it will continue to permanently lurk under its bridge.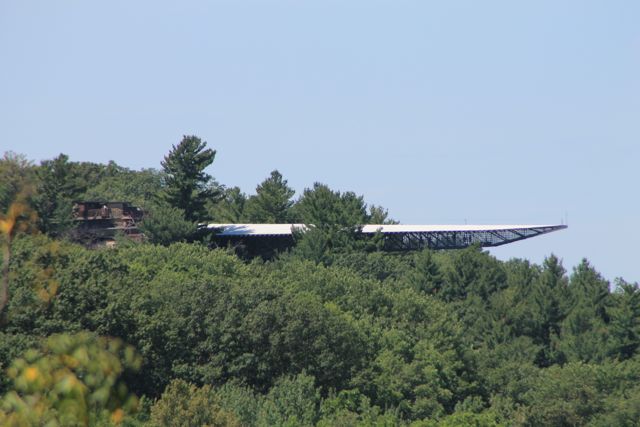 House on the Rock, Dodgeville, WI
It's the house that just keeps going on and on, with each room having a different (oftentimes borderline creepy) theme. There's the room that is chockfull of only Santa-related décor and the one that is stocked with nothing but old carousel paraphernalia. But perhaps the scariest feature is the Infinity Room, which is a 218-foot-long hallway that juts out over a ledge. And no, there are no support beams holding it up
Dog Bark Park Inn, Cottonwood, ID
How's this for a kitschy getaway? Comprised of two large dogs carved from wood—12-foot-tall Toby and 30-foot-tall Sweet Willy—the largest of the two is actually a bed and breakfast. That's right: you can spend the night in Sweet Will's stomach and muzzle.
Largest Ball of Paint, Alexandria, IL
What do you do when you drop a baseball into a bucket of paint? Why, you let it dry and then paint another layer. And then another. And another. That's exactly what Michael Carmichael did back in 1977, and continues to do today. To date, there are more than 20,000 coats of paint and the giant ball weighs in at more than 3 tons.